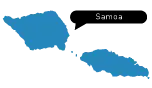 British Common Law
Legal System
Main Company Legislation
Samoa International Corporation Act 1987

Samoa is located in the southern Pacific Ocean, west of the Samoan Islands, and consists of two main islands, Sawai and Upolu, and seven small islands. Most areas in the territory are covered by jungles and have a tropical rain forest climate.The Constitution of Samoa follows the parliamentary system, is based on British common law, and is heavily influenced by the jurisprudence of the Commonwealth.In 1987 and 1988, the local government promulgated international company laws and related banking, trust and insurance laws. The international company law was also revised in the form of the British Virgin Islands to make it easier to use.
Location




Samoa is located south of the equator, between Hawaii and New Zealand, in the Pacific Polynesia region. The total land area is 2,842 km2 (1,097 square miles), and it consists of two large islands, Upolu and Savai'i (a total of 99% of the total land area) and eight small islands.
Language




Samoa language used for the Samoan and English.
Economics




Main industries: agriculture, tourism, food processing, fishery. Samoa's economy depends on the export of agricultural products the highest degree guide, tourism and foreign capital flows.
Foreign Exchange Control


None.



II.Advantages of setting up a Samoa company
Why can Samoa become the second choice after BVI? Because of International Company Law amended the form of the BVI, so there is more advantageous than BVI, advantages are as follows:
High privacy


Details of the directors no need to include in any public record.

High acceptable of banks


Almost all designated foreign exchange banks in Taiwan can establish the BVI company OBU account.

Easy to set up


Only need one or more shareholder/director information than can register to set up.

Easy to maintain


without presenting the company annual report and audited accounts nor required to convene the Annual General Meeting. Only need to pay a fixed government fee to annul which can sustain the company.

High registered capital


Companies can customize the registered capital, and without increasing the capital tax.
The main position as "Investment Holdings" companies. EX: As China's investment holding company. It can use for trading purposes. Its standard registered capital amounted is USD 1,000,000, so it can be transferred to investment patterns, to avoid bilateral taxation and reduce investment risk.
III.How to register a Samoa company? What documents are needed?
The following are the information and relevant regulations required for Samoa company registration
Choose the name of the registered Samoa company




The name of an international company in Samoa should meet at least the following conditions:




•Must not be identical or duplicated with existing company names




•Include any language at the end "corporation", "corp", "incorporated", "inc", "limited", "ltd" or similar words,to indicate the existence of a corporate individual or entity different from other companies, the company name can be retained for up to 3 months.




•English company name.(Chinese can also be added, but a license establishment fee of USD100 must be added).

Director and shareholder




A copy of the passport of at least 1 shareholder/director is required for registration.

Registered capital




The standard registered capital of a Samoan company is USD1,000,000, and it can also increase or decrease capital without increasing government fees.

Registered address




Samoa need to set up an English mailing address, provided by the Secretary of the company.

Inter Area with many years of business experience, it is not only the matters related to overseas company registration that can pay attention/service to customers. Because Inter Area with professional talents who are familiar with overseas affairs, from planning, registration, actual operation cases and related precautions and the latest information, it is designed to provide customers with the most complete, fast and secure service. The focus is on the background and purpose of customer practical investment. Different products and services produce new experiences and determine the future value.
Overseas bank account opening related services