Introduction of service company
Introduction of service company
I.Introduction to setting up foreign service companies in China
| Shanghai Service Company Set Up | Shenzhen Service Company Set Up | Xiamen Service Company Set Up |
China's per capita GDP now exceeds USD6, 000; the world's middle-income level has been reached. 
At this stage of development, the service sector has become the main growth point and pillar industries, the development of new services in the Chinese economy, can greatly promote economic growth, increase effective supply, and better meet consumer demand, improve people's livelihood, improve quality of life.

Column such as: Agreement on Trade in Services (General Agreement on Trade in Service, GATS): international trading partners to negotiate for services cross-border services, topics include MFN import tax and duty exemptions, etc., regulate trade patterns can be divided into Cross-border supply, consumption abroad, commercial presence and presence of natural persons and other four categories, service trade agreement with the elimination of trade barriers and discriminatory norms function.
II.Notices to establish a foreign investment service-type company
Generally billing 3% service invoice, if the turnover up to RMB 8 million, can become the general taxpayer, change to billing 6% value-added tax invoice (Deductible).
There is no special restriction on the amount of establishing foreign investment service-type company in China, it is better if the registered capital more than

RMB 300 thousand

.
The registered capital,

down payment

, need to be 20%, remaining payment can pay in the operating period after the funds are imported, a capital verification report should be issued for future reference by relevant units.
Responding to business needs can upgrade the service-type company to commercial trading company.
When opening a bank account, a legal person must at the scene or provide relevantly documents handled by professionals.
III.There are Several Main scopes of Services industries
IV.Documents and application process for setting up a service company in China
The application process of establishing a service-type company in Shanghai, Shenzhen, Xiamen, and Kunshan, the relevant information should be prepared in advance and conduct company name approval.
After obtaining the official name approval document the information will be submitted to the Ministry of Commerce and taxation, banking, foreign exchange, and other relevant departments in accordance with indispensable procedures after the examination by the Ministry of Commerce.
Foreign service companies from the data collected to the company can start operating invoices, application procedures for about one to one and a half months.
Service company application process in China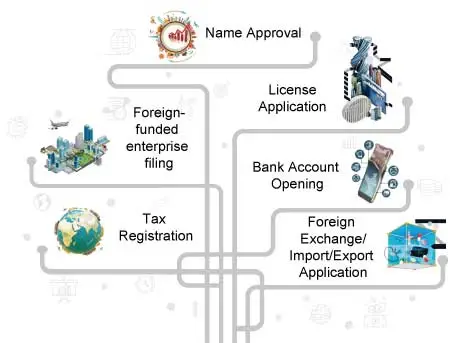 Name approval:


Provide company name approval.
Foreign investment enterprise filing:


Provide foreign investment company information.
License application:


Apply for a business license and get a uniform credit code.
Set up an account:


Opening a bank account and online banking.
Tax Registration:


Need to carry out tax and invoice verification, apply for the invoice.
Foreign exchange application:


Open an investment account.
Inter Area Business Provider has many years of practical experience in Chinese industry and Commerce, our service not only companies registration, but we also understand all kinds of practical items and norms of local investment. 
Inter Area provides a one-stop service to customers. The service covers from the overseas holding company to apply for certification/file / local business registration address/company registration, accounting and tax/subsequent local commercial administrative affairs, etc. 
To cater to local business problems, provide efficient and profitable international investment solutions, and reduce initial investment costs, allowing investors to make rapid progress in the local market in the most flexible way.
V.Applied for the establishment of the service-type company in China | Q & A