Set up foreign investment branch in Taiwan
I.Use and function of foreign branch
What is a foreign company branch recognition?




According to Article 377 of the Company Act, A company may not conduct its business operations or commit any juristic act in the name of its company, unless it has completed the procedure for company incorporation registration.




If a foreign company wants to do business in Taiwan, it has to set up a Taiwan branch first; A foreign company refers to a legal person organization registered in accordance with foreign laws. If it intends to do business in Taiwan, it should be recognized by the government, that is, the government must first recognize its legal person status in the Republic of China before it can be established A branch company in the Republic of China, then it can engage in business activities in Taiwan after it is established.

The branch can conduct the following businesses in Taiwan:
Issuing business tax invoices.

Sign contracts in Taiwan and received customer payment/service fee.

Legally hire employees.

Via a branch to Import and export business in Taiwan.

Representing the parent company in purchasing movable and immovable properties in Taiwan.(refer to relevant laws and regulations separately)
II.Basic establishment procedures and prepare documents
I.Overseas Chinese and foreign investment


Overseas Chinese and foreign investment (including Hong Kong and Macao) setting up branches in Taiwan do not need to be approved by the Investment Commission, MOEA. They only need to apply for foreign company recognition and branch establishment to the Central Office of the Ministry of Economic Affairs.

II.China branch


The procedures for foreign companies and mainland-funded enterprises to set up branches in Taiwan are different. For example, mainland people, legal persons, organizations, and other institutions hold shares in foreign companies, and those who contribute more than 30% of the capital or have control over foreign companies, before applying for the establishment of a branch, they should apply for an investment permit from Investment Commission, MOEA first.

III.The basic process of setting: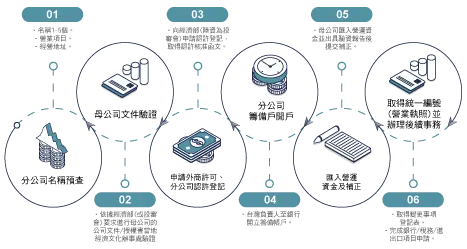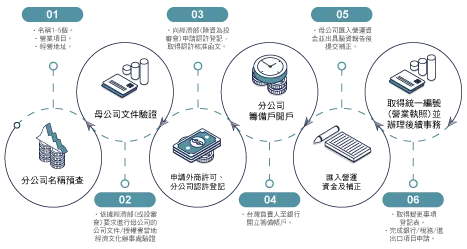 Branch company name pre-check.


・Branch Name:1-5.




・Business items.




・Company address.

Parent company document verification.


・According to the requirements of the Investment Commission, MOEA, the parent company's documents /authorization letter shall be verified by the local economic and cultural office.

Apply for foreign business license and branch approval registration.


・Apply to the Ministry of Economic Affairs for approval registration (the mainland-funded enterprises apply to the Investment Commission, MOEA), and obtain the approval letter.

Branches prepare for account opening.


・The head of Taiwan opens a preparatory account at the bank.

Remit working capital.


・The parent company remits working capital and issues a capital verification report and submits the application.

Obtain a unified number (business license) and handle follow-up affairs.


・Obtain the change registration form.




・Complete bank/tax/import and export project application.
III.Branch tax and tax rate
Subsidiary/branch tax and accounting responsibilities


Regardless of whether it is a subsidiary or a branch established by a foreign company in Taiwan, it is also subject to the provisions of the Taiwan Business Accounting Law.




According to regulations, branches need to keep statements of accounting accounts in accordance with Taiwan Accounting Standards. Statements of accounting accounts must be compiled and saved in Chinese and used the Taiwan currency. It is necessary to submit a corporate income tax return once a year and a business tax return once every two months.

Basic tax and tax rate:
Also known as consumption tax, it is divided into value-added or non-value-added business tax. Generally, it is value-added business tax.
Overseas Chinese and foreign businessmen who set up a branch to invest in Taiwan shall be subject to profit-making business income tax on their profit-making business income within the territory of the Republic of China.
When the branch's after-tax surplus is remitted back to the parent company, it is exempt from withholding income tax at the source because it is not a surplus distribution.
V.Precautions for the establishment of branch offices
Standardization of branch company name:




The branch company and the parent company belonging to the same legal person in law.

The legal actions of the branch are based on the foreign parent company. The name of the Taiwan branch must be marked as "○○○○○ Company of Taiwan Branch" when registering.

Registered capital:




The foreign parent company must set the funds used for the operation of the branch in Taiwan, and pay attention to the regulations of the competent authority on whether the capital of the business is sufficient for business use.

Franchise certificate:




The branch company shall be regarded as a local company in Taiwan to regulate, such as operating franchise items such as medical equipment,




controlled telecommunications business, etc., still must apply for a franchise from the competent authority in accordance with the local regulations of Taiwan.

Agent ad item:




After the foreign company is approved, it should designate litigation and non-litigation agents and branch managers in Taiwan. Agents and managers can be nationals or foreigners.
Taiwan company related services