Set up overseas Chinese and foreign investment company in Taiwan
I.Types of foreign-invested companies in Taiwan
For foreign investors to invest in Taiwan, there are three types of company options: office/branch/limited company. Different types have their own functions and characteristics. Foreign investors can make relevant plans according to actual needs.
For differences in related types, please refer to the form below.

Comparison table of foreign investment in Taiwanese companies: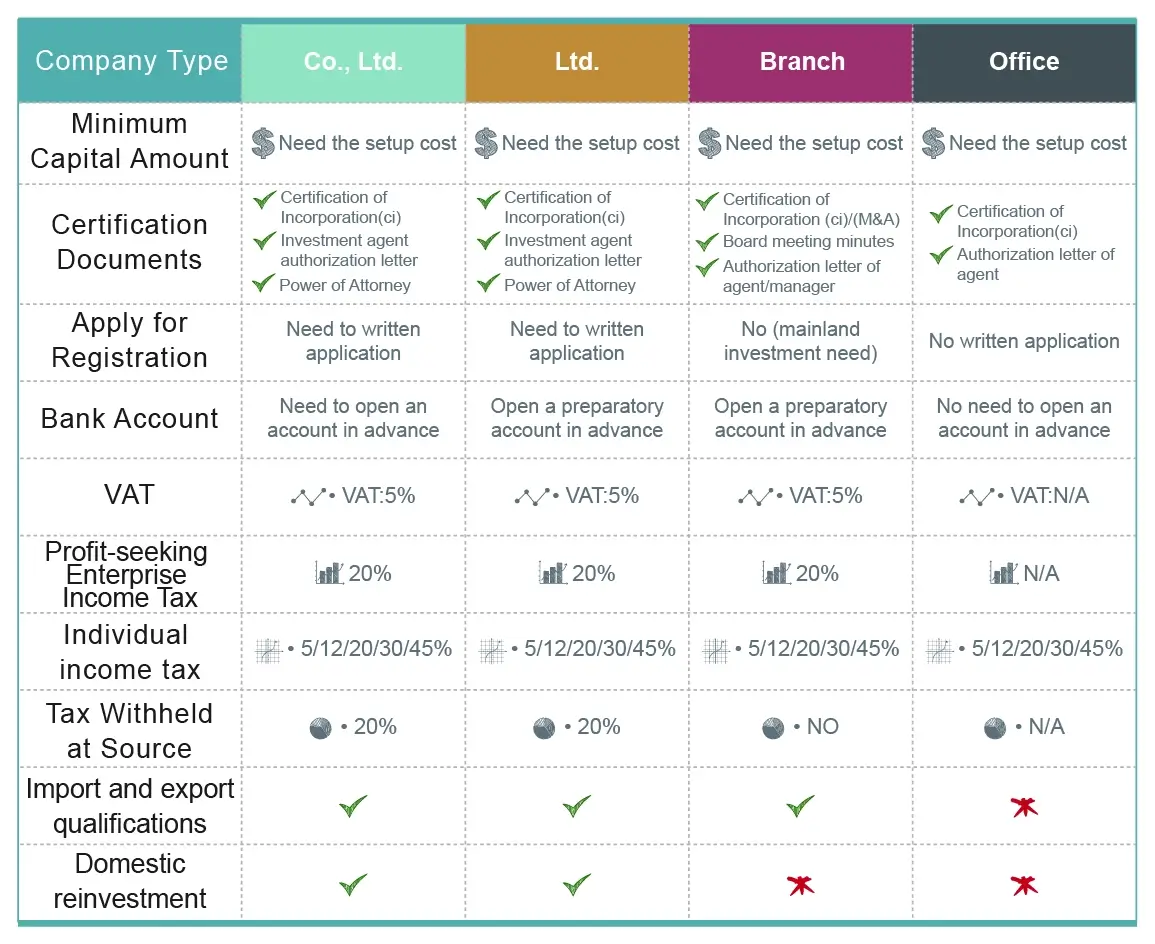 II.Introduction to the establishment of a foreign company in Taiwan
Overseas Chinese & foreign (subsidiaries) local independent legal entities, with legal and economic independence, can carry out reinvestment, can also set up branches, issue invoices, and conduct wholesale, retail, import and export business activities.
In addition to the 20% business income tax, when dividends are remitted, 20% of the source withholding must be withheld, but they can enjoy relevant tax incentives.
General overseas Chinese & foreign limited company


Currently, Taiwan divides foreign investment into overseas Chinese & foreign, and mainland investment, which are restricted by the

"Foreign Investment Regulations" and "Overseas Chinese Returning Investment Regulations"

and other regulations. The negative list is adopted to prohibit or restrict investment. Do not exceed 40 items, and the open rate reaches 96%. Except for the special requirements of the competent authority, there is no minimum or maximum investment limit for other open projects that are not specified. It takes about one month to set up the procedure.
Mainland investment in Taiwan subsidiary
Mainland Investment is based on the regulations of the People's Relations across the Straits. There are also the

"Licensing Measures for People from the Mainland Area to Invest in Taiwan", "Licensing Measures for the Establishment of Branches or Offices in Taiwan by Profit-seeking Enterprises in the Mainland Area" and "Permits for the

mainland investors establishment of branches/offices in Taiwan for profit-making enterprises"

, etc. Regulations to regulate investment.
If the equity of a foreign company contains more than 30% of the total capital directly or indirectly contributed by land capital, it shall be reviewed by mainland capital.
Currently, mainland merchants are open to investing in 408 industry projects in Taiwan, including 204 manufacturing projects, 161 service projects, and 43 public construction projects. Mainland-funded-related investment enterprises must also provide relevant information required by the unit based on the content of the investment project, such as business certification, operation planning, capital budget, etc., and then attach a note to the relevant department of the project, so the review time is longer, It usually takes at least three months or more.
III.Documents to be prepared for foreign company registration
Proposed company name.

Business items.

The company's registered capital.(capital verification required).

Identification documents of the person in charge.

Identification documents of shareholders.

A copy of the latest annual housing tax bill.

A copy of the ownership certificate of the building.

A copy of the lease contract.

Shareholder authorization letter.(verification required).

Investment Plan.
IV.The basic process of foreign company registration
Company name pre-check


provide the company name and obtain a pre-check form.



Investment document certification


Carry out the investor's relevant document certification.



Investment review committee filing


Like the investment review committee filing an investment plan application.



Opening a preparatory account


The person in charge opens a preparatory account at the bank.



Capital remittance and verification


remit registered capital and apply to the

investment review committee for verification.



Business registration application


Apply for a uniform number at the place where the company is registered.



Tax registration and invoice application


The person in charge goes to the tax bureau for tax registration and applies for proof of ticket purchase.



Account conversion


Convert the preparation account to the official company account.



With many years of business experience, Inter Area Professional Service Provider can not only assist customers in setting up companies in Taiwan but also provide tax/

banking/secretary assistance. 
We have professionals who are familiar with the

communication of multinational business secretaries and provide customers with the most complete, fast, and secure service.
The focus is on the background and purpose of customers' practical investment. Different products and services produce new

experiences and determine future value.