Ⅰ. Advantages of opening an offshore bank account in Singapore
Ⅱ. Top banks in Singapore
After the company is registered, opening a bank account is essential for further business operations.
You may have many options when it comes to opening a business account in Singapore, and most banks in Singapore offer attractive incentives such as credit cards, freedom to transfer funds across countries, online banking, multi-currency accounts, trade finance, and more.
You need to first understand each bank to ensure that the features offered are in line with your company's business plans and needs and choosing a bank that will provide a suitable development for your business operations can reduce future banking-related issues.
Before confirming your bank, you should consider the following factors:
What is the expected bank transaction volume?

Total initial capital deposited in the bank.

What other additional financial services might the business require?

What is the bank's minimum account balance requirement for the account?

What type of currency will you be trading?

Is it possible to trade instantly.
–Local Major Banks–
DBS
DBS DBS Bank was established in 1968, formerly known as "Development Bank of Singapore" (Development Bank of Singapore), and changed its current name on July 21, 2003. Headquartered in Singapore, it is considered the largest bank in Singapore and Southeast Asia by assets.
OCBC

Oversea-Chinese Banking Corporation Limited, commonly abbreviated and referred to as OCBC, is the second largest bank in Singapore. It was established in 1912. At present, OCBC Bank has more than 630 branches and representative offices in 18 countries or regions around the world.
UOB

United Overseas Bank; abbreviation: UOB, is a multinational bank headquartered in Singapore, with branches all over Southeast Asian countries. Established in 1935, UOB is the third largest bank in Southeast Asia in terms of total asset value.
–Local Foreign Banks–
HSBC

In Singapore, The Hong Kong and Shanghai Banking Corporation Limited opened in 1877. HSBC is an Accredited Primary Dealer and an Accredited Bond Intermediary (ABI) in the Singapore Government Securities Market.
Standard Chartered Bank
Standard Chartered Bank's business in Singapore began in 1859. It is the largest foreign institutional custodian bank in Singapore.
Maybank
Maybank is currently one of the top five banks in ASEAN and is a qualified wholly-owned bank in Singapore.
Citibank

Citibank was the first US bank to open a branch in Singapore in 1902. Citibank was one of the first four foreign banks to obtain a Qualified Bank (QFB) license in 1999.
Ⅲ. Documents required for opening an account in Singapore
The account opening bank will request the following basic documents, in addition to other documents depending on the individual case.
Certificate of Incorporation.

Full copy of Constitution/Memorandum and the Articles of Association(M&A).

Certificate of Incumbency(note the validity period of issuance). 

The certified proof of passports and address certificates of directors, signatories and authorized persons.

Proof of company business.

Customer and supplier information.

Proof of relevant bank flow or financial resources.
Opening a corporate bank account in Singapore is neither possible nor easy for foreign companies to verify relevant information. As a result, banks must gather more detailed information up front and enforce stricter procedures than usual on their foreign customers.

The point is that banks need to know the customer and the company's business (KYC). By law, banks are required to perform due diligence on customers to comply with regulations aimed at combating terrorist financing and money laundering. Banks must filter out the few bad apples from the vast majority of legitimate legitimate business. Bank compliance officers must figure out whether new client companies may be the target of illegal activities, so banks need detailed information and documentation from companies to better understand their business and risk profile.
The bank will conduct a comprehensive assessment of the client's risk profile, covering a range of factors, including the complexity of the legal structure, the background of the company's promoters, the nature and geography of business activities, representation of clients and suppliers, and an overview of transaction activity. The ability of the company to provide the necessary information to the bank will be the key to a successful account opening decision.
IV.Singapore bank account opening registration process
Whether it is a Singapore company or an offshore company to open an offshore account, the account opening steps are as follows: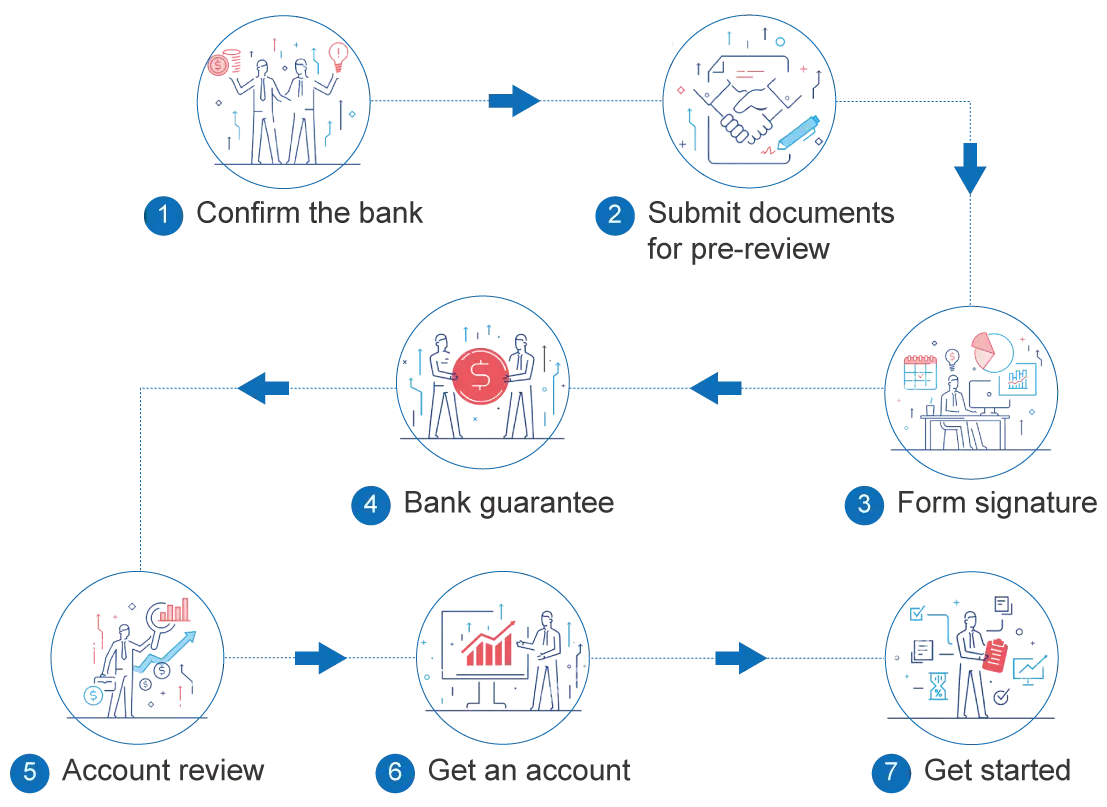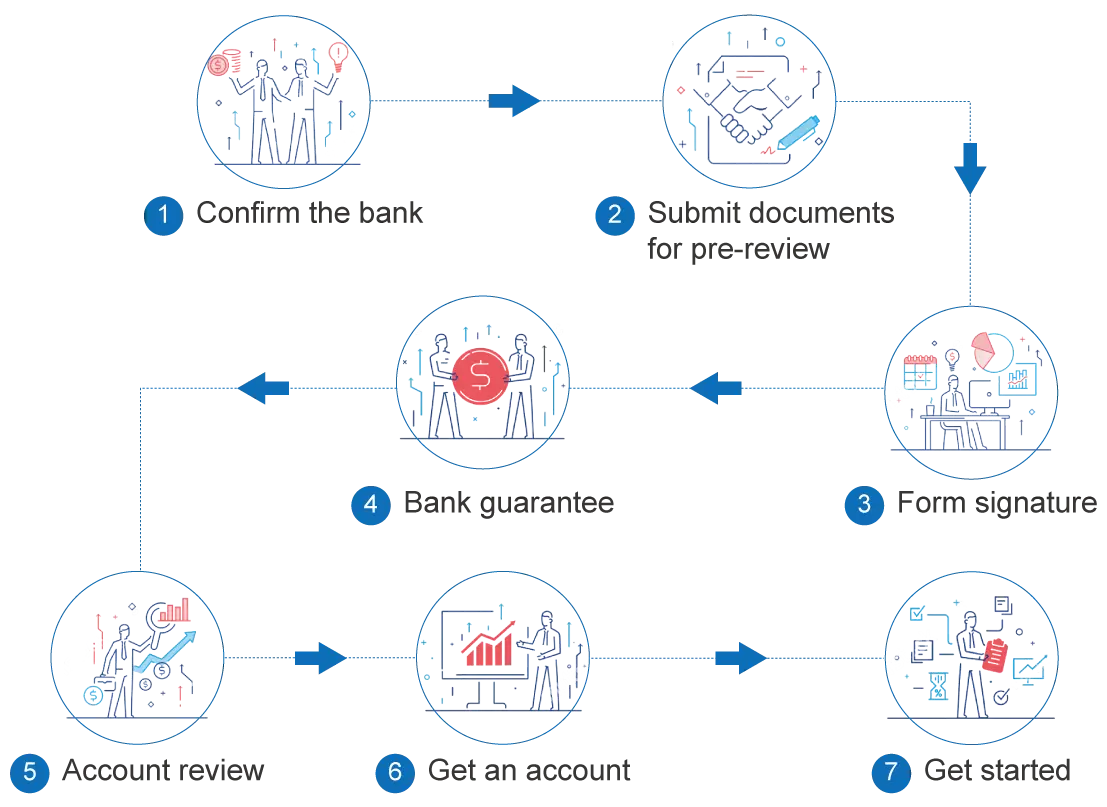 Confirm the bank:




After understanding the bank account opening conditions and thresholds, choose the bank account that best meets your requirements.

Submit documents for pre-review:




Prepare relevant information required by the bank, such as company certification documents, business information, etc., and submit it for preliminary review.

Form signature:




Obtain the company account opening form and complete and sign it by the director's authorized person.

Bank guarantee:




In principle, the bank requires account signatories and most directors to sign documents in person in Singapore when the account is opened. However, due to the impact of the Covid-19 outbreak,

some banks may accept signing documents at one of their overseas branches or arranging online video conservatories.

Account review:




After reviewing your documents, the bank will approve the application and open the bank account.

Get an account:




Obtain bank account information, deposit the first basic deposit, and activate the online banking function at the same time.

Get started:




The account is now ready. You will be able to make deposits and withdrawals, as well as use any other functions associated with your account.
V.Notes for Opening Bank Account in Singapore
After opening an account in a Singapore bank, the operation of funds is flexible. The bank in Singapore has strict requirements for opening an account.Generally, directors are required to have Identity Verification in person. However, some banks can still arrange directors to the nearest regional branch or use video according to customer requirements. Different banks have different account opening conditions and basic deposits. If you plan to open a Singapore bank account, you should first confirm the threshold of the local bank in Singapore and the required information.
Avoid dealing with high-risk or sanctioned countries and regions. 

When opening a corporate bank account with a Singapore bank, pay attention to whether the registered company name contains sensitive words. For example, finance, coal, oil… etc. Companies with such words are more sensitive when opening bank accounts. 

If the company's directors and shareholders have bad records in any branch of Singapore Bank, the Bank will not accept the company to open bank accounts. 

The company's shareholder structure should be as simple as possible to avoid an overly complex shareholding structure and increase the difficulty of bank approval.
VI.How do foreigners open a personal account in Singapore?
There are several different types of bank accounts for individuals in Singapore, including current accounts and savings accounts.
A current account works in Singapore the same way it does in other countries, allowing you to manage your day-to-day banking. However, savings accounts also have many of the same features as current accounts. As a result, many Singaporeans choose to only use savings accounts instead of current accounts.
-Multicurrency Savings Account-
Unlike regular savings accounts, multi-currency accounts allow you to hold multiple foreign currencies other than Singapore dollars in one account. This allows account holders to conduct overseas transactions directly from their bank account without incurring additional foreign exchange fees.
As a foreigner to open a bank account in Singapore, the required documents are slightly different from the bank requirements, basically you may need:
Proof of identity (passport or ID card)

Proof of address (utility bill, etc.)

Financial proof or local visa

Some banks may even require letters of recommendation.
VII.Singapore opening bank Account Q&A | INTER AREA
Overseas bank account opening related services