Overseas Bank Account Introduction
Registering a foreign company is not a difficult task nowadays, but the key lies in whether the operations and purposes after the registration of the foreign company can meet the needs of the business or individual.
Having a bank account is crucial for a offshore company registration, as it is considered essential for legitimate operations. In the case of opening a bank account in Singapore, which is known as one of the world's financial centers, it is a preferred location for many multinational corporations to invest and establish bank accounts. However, the scrutiny of required documents for opening overseas bank accounts in Singapore and other jurisdictions has become increasingly stringent. Each bank may have different requirements and documentation, and business owners often face delays and multiple trips due to incomplete or unfamiliarity with the account opening procedures. In some cases, they may even be rejected by banks.
I.The functions of opening an oversea bank account
1.Tax savings.(Generally, opening an oversea bank account, gift tax and estate tax can be exempted) 

2.Hedge and maintain value. 

3.Safety and high secrecy.(Generally, no right to examine the oversea bank account or be protected by private law) 

4.Unimpeded, convenient, fast.Unimpeded, convenient, fast. 

5.Multiple currency options to reduce exchange losses. 
II.Basic documents of oversea bank account opening


Company registration certificate.


(if it is a Hong Kong company, provide a business license).

Organization Memorandum and Rules.

Certificate of incumbency, or proof of good reputation.


(if the company is established more than 12 months).

Company structure diagram.

Director's valid documents.

Business certification documents.
The documents and conditions required by each bank are different and often change .The actual information must be determined by the currentbank requirements.
III.Process of opening an overseas bank account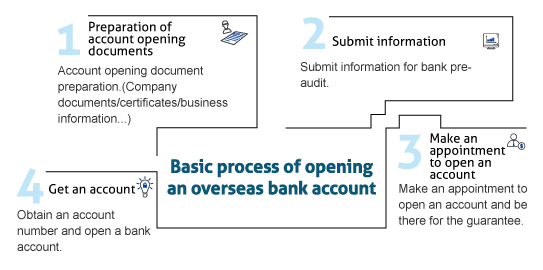 1.Account opening document preparation
(Company documents/certificates/business information…)
2.Submit information for bank pre-audit.
3.Make an appointment to open an account and be there for the guarantee.
4.Obtain an account number and open a bank account.
IV.Introduction of National Banks
Generally, when opening a bank account overseas, most people will choose Singapore, Hong Kong or Taiwan. The following briefly introduces the key points about opening bank accounts in Singapore, Hong Kong and Taiwan.
Open a business account in Singapore




Singapore is the third finance center in the world, surpassed only London and New York. As a result, Singapore's financial system is intact and internationally renowned, all of the large-scale banks are established the branch in Singapore. When attracting many multinational companies to choose an overseas company to open an account, they will open an account in Singapore and conduct financial/capital operation.

And also because of the Singapore bank account funds account for free, the Bank of Singapore (KYC), in addition to the stringent requirements of the responsible person must personally to the scene on the outside, the bank account for different conditions and the basic deposit are also different,

if you plan to

Singapore to open an account,

be sure to first Singapore bank and local threshold to confirm the clear data

, or seek experienced service agency to assist, not because of unclear bank account and not a requirement, not only a waste of time and money, so the company funds more delayed operation time.
Open a business account in Hong Kong




HK bank account equivalent to an account opened at an overseas bank. It must to open an oversea account after established the oversea company, currently, lots of enterprises choose to open a business finance account in HK to do the capital operation. HK is one of the international financial Center, all of the financial institutions and large-scale banks have established the branch in HK such as HSBC, Citibank, Standard Chartered, etc. Attract to transnational enterprise open account in HK.

Therefore, opening an account in HK is more rigorous, conditions are relatively strict, we recommend consulting with experienced agency and provide clients to open accounts, it can increase the probability of approval.
Taiwan OBU Account




OBU (OFFSHORE BANKING UNIT) is an abbreviation for branches of international financial business. OBU is often referred to as "offshore companies", and correctly speaking, "OBU" refers to an account opened by an overseas company in Taiwan, the government separated with the local financial system, foreign currency transactions to brokers, overseas customers as the trading object, give tax relief or exemption, financial regulation and other preferential conditions, to attract international financial industry to engage in the financial business.

In opening bank accounts overseas in Hong Kong and Singapore, banks will provide documents in accordance with the actual situation of the client company. Therefore, the documents required to open accounts in overseas banks in Hong Kong and Singapore and the bank account opening process are extremely important. Inter Area has professional and valuable experience in providing and assisting customers to open overseas bank accounts in Hong Kong and Singapore

.
V. What is a digital financial account?
Digital banking is a hot topic in the fintech industry today, revolutionizing the way traditional banking operations are conducted. Hong Kong, Singapore, and the United Kingdom are pioneers in the field of digital banking, with their digital banking services gaining widespread recognition and usage. Here is a brief introduction to the digital banking landscape in these three countries:

Digital Banking in Hong Kong:
As an international financial center, Hong Kong has been committed to driving the development of financial technology. The rise of digital banking in Hong Kong can be traced back to 2019 when the Hong Kong Monetary Authority first issued virtual banking licenses. These virtual banks offer a variety of financial services, including deposits, loans, investments, and payments, through digital platforms. Hong Kong's digital banks excel in customer experience, convenience, and data security, providing users with more flexible, efficient, and secure financial services.

Digital Banking in Singapore:
Singapore has long been recognized as Asia's fintech hub, dedicated to promoting fintech innovation. In the field of digital banking, Singapore has also made significant progress. Under the regulations of the Monetary Authority of Singapore (MAS), the country has issued several digital banking licenses. These digital banks offer comprehensive financial services through smartphone applications, ranging from deposits and loans to payments and investments. Singapore's digital banks are praised for their innovation, highly automated services, and excellent customer experience, making them the preferred choice for local residents and businesses.

Digital Banking in the United Kingdom:
The United Kingdom is home to several well-known fintech companies in the digital banking space. Digital banks in the UK emphasize technological innovation and data analytics, aiming to provide customers with more intelligent and personalized financial service experiences. They prioritize interface design, open APIs, and data security, offering customers convenient and secure financial services. Moreover, digital banks in the UK place great importance on data security and privacy protection. They typically adopt advanced encryption techniques and multi-layered security measures to ensure the effective protection of customers' data and funds. This security-focused approach instills confidence and trust in customers, making them more willing to use digital banking services.

 
The differences between a digital financial account and a traditional bank:
 

Digital financial account

Traditional bank account

Advantages

 

1.     Convenience and Services: Digital financial accounts allow for real-time operations through the internet or mobile applications.

2.     More Service Options: Digital financial accounts typically offer a wider range of financial services such as investments, insurance, loans, etc. Users can address multiple financial needs on a single platform.

3.     Cost Savings: Digital financial accounts often come with lower transaction and management fees, making them more cost-effective compared to traditional banks.

1.     Face-to-Face Service: Traditional banks offer face-to-face customer service, allowing them to address user inquiries and provide professional advice.

2.     Cash Handling: Traditional banks typically provide services for cash access and handling, which is more relevant for individuals and businesses that require frequent cash transactions.

Disadvantages

1.     No Physical Branches: Digital financial banks may not have physical branch locations.

2.     Limited Credit Services: Digital financial banks may not be able to provide comprehensive credit services.

3.     Inability to Handle Letters of Credit: Due to their primarily online operations, digital banks may not be able to facilitate the processing and verification of letters of credit.

1.     Time Restrictions: Traditional banks have fixed operating hours, which may be inconvenient for individuals with busy schedules or those unable to visit the bank during operating hours.

2.     Lengthy Processes: Some transactions and procedures in traditional banks may involve extensive paperwork, making the process more cumbersome.
Regardless of whether you are opening a company account in overseas regions such as Singapore or Hong Kong, banks may require relevant documents based on the actual situation of your company. Therefore, it is crucial to prepare the necessary information and understand the account opening process. In addition to assisting clients in opening overseas company accounts, InterArea also provides resources and assistance for digital financial accounts, such as Taiwan OBU Accounts, Singapore Bank Accounts, and Hong Kong Bank Account.
Digital financial accounts are a significant development in the modern financial sector, offering more convenient, efficient, and secure financial services. As the financial market systems continue to evolve, InterArea strives to integrate resources and enhance the effectiveness and efficiency of our customer service.
InterArea constantly improves its processes and resource integration to ensure a smooth account opening experience and effective financial management for our clients. In this rapidly changing era, we understand the importance of focusing on goals and adapting to the latest environments and operational models. We are dedicated to ensuring the smooth operation of your company and minimizing unnecessary time and cost expenses.
Whether you are opening a company account overseas or seeking digital financial accounts, InterArea is your reliable partner, providing professional and efficient services. We are committed to helping clients achieve their business objectives and succeed in a competitive environment.
Introduction of other overseas banks